When I think of Estonia, the last thing I think of is bicycles. I think of Russian neighbours, bitter cold winters, beautiful women. Risto (from Estonia) sent me an electronical mail from this place I know little about.
In contrast, I'm sure Estonian's think of Australia as a hot and dry desert, with nothing but Kangaroos, Great White's and that we speak funny.
Yes, we sound strange, it can get very hot in places, and there is even the odd Great White in the water, which is why Australian's are fast swimmers.
Eesti
I decided to wiki Estonia to elevate my geographical and cultural awareness.
My first reaction was what a great colourway their flag is, and thoughts immediately turned to what their local cuisine might be like.
Some more digging and turns out this gent was the first Estonian pro cyclist. Jaanus Kuum. In Australian we'd call him Kuumo.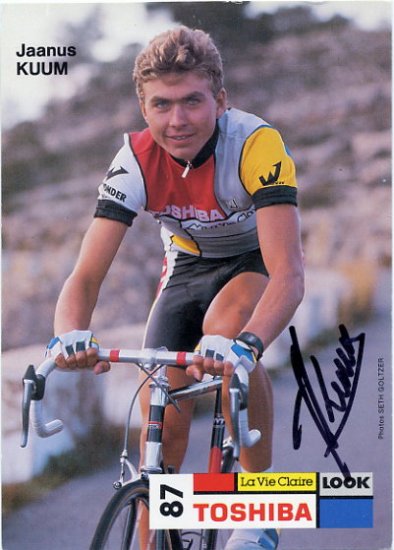 Jaan Kirsipuu is one of the modern day Estonian cyclists. You've probably heard the name for good reason. Stage 1, 2004 Tour de France.
Marginally outsprinting none other than Robbie McEwen. More on that later.
Risto thought you might like to take a virtual ride with him and his friends around Tallinn.
After feeling slightly more educated you can find out more here - Tallinn Bicycle Week.
Happy Friday!
Back next week with some hot goss and cycling inspiration.